MyChat is a client-server application that was originally intended for local networks. People were able to connect to the city server and communicate. It was some kind of a private environment for local citizens only.
Time passed, and people switched to public messengers. But what about those private servers? Now they work in big complex corporate networks and provide secure communication between employees.
When you read "Internal chat software" you probably think of this: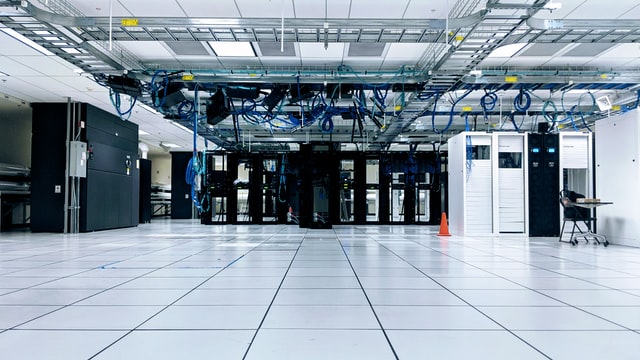 Such server rooms exist in large corporate organizations (e.g. Google, Amazon, etc.). These companies process a huge amount of data, that is why they need data centers like this. However, managing a server does not always require being a Chosen One.
MyChat Server for business collaboration
A corporate server looks like a regular application: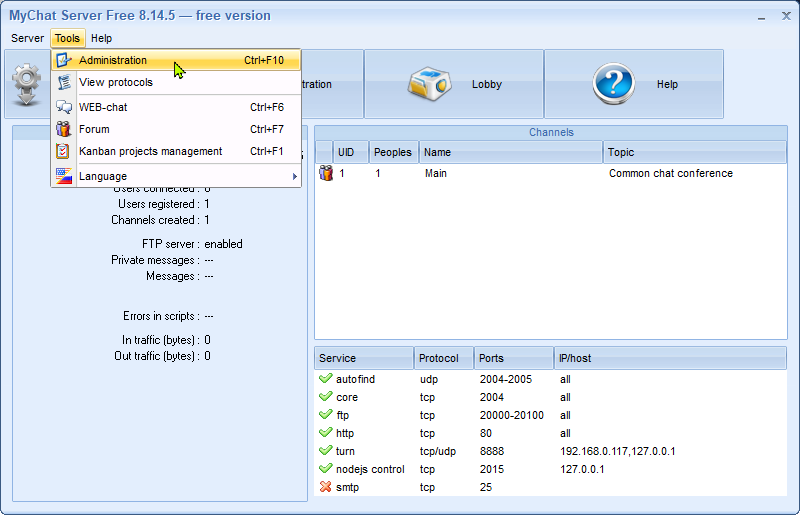 What do you need to run MyChat Server for business?
What MyChat Server is capable of?
MyChat Server's Admin Panel is opened in a browser (or in MyChat Alternative version for Windows). All the sections are structured according to certain features.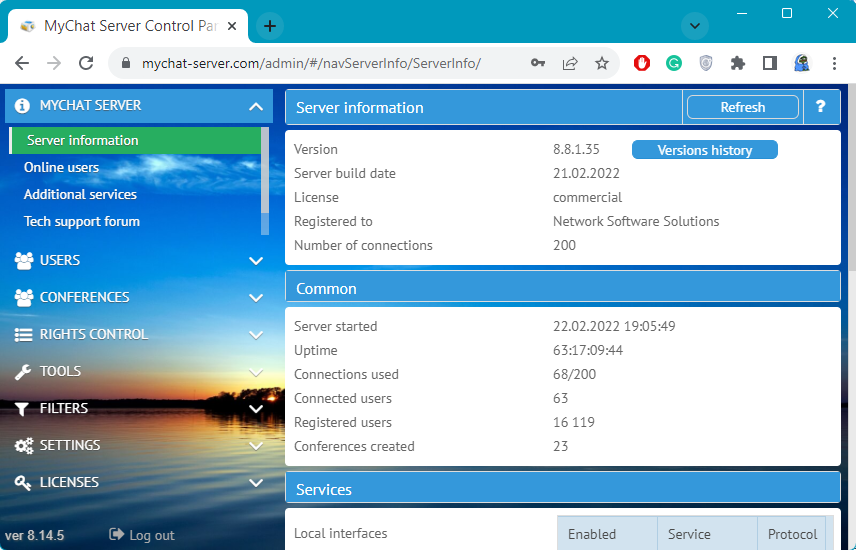 MyChat Server
In the section MyChat Server, you can view information about the server's version, and how many connections your license supports. You can post your question to the support team in the sub-section "Tech support forum". 
Users
The section Users manage user lists on the server. Here you can check and assign company positions to employees, or import users from a file. By the way, there is also an option to manage employees imported from Active Directory.
Conferences
Conferences display information about all the active conferences on the server. The administrator can create rooms to which users will be automatically added after connection, and assign moderators
Rights control
Rights Control is the most important section in the MyChat internal messaging system. The administrator assigns certain rights or rules that allow or forbid using specific features in MyChat Client.
MyChat integrates with a lot of services: Asterisk, Telegram, GeoIP, etc. You can manage them in the section Tools. If you want to connect with your website visitors, you can configure a website support chat.
Moreover, you can set up an internal forum (knowledge base) for your employees. In the subsection "Forum", subscribe users to relevant topics, and they receive all the notifications directly in the chat.
Filters
To keep your internal business communication calm and professional, use Filters to ban naughty users, or configure an anti-flood filter.
Settings
The section Settings allows for managing the server's network configurations; connecting its own FTP server, and disabling unnecessary WEB services to avoid confusing employees. If you care about your data safety, visit the sub-section "Backups", and make copies regularly.
Licenses
Licenses contain information about your current license: the date of purchase, and when it expires. If you work with a free version of MyChat, in this section you can enter the key after purchasing the commercial version.
What is the difference between free and commercial versions of MyChat?
---
Indeed, MyChat Server for business has a lot of tools and features. But in our opinion, it makes this business chat program more flexible and convenient for a corporate environment.