A phone is a device that is always with us in a pocket. You may not have a computer or laptop, but a smartphone is a must because of the rapid growth of digitalization.
We do many things with our mobile devices: send messages, make calls, take pictures, record videos, pay for things online and in real life, navigate, and even work.
As a result, our phones have become our guides in the modern world. The more we share various information, the more we should pay attention to its privacy.
It is important to separate personal data from work. Corporate and business information does not belong to you, except you are the boss. And even then, it's better to keep it well-protected and privacy-focused.
With the help of our phones, we register on various websites and applications. Most popular apps — such are Telegram, Viber, and WhatsApp — use your whole contact list, including work and personal numbers. This may cause a mess when spam messages blend with business ones — not good for productivity.
Privacy tips to keep your phone secured and more helpful
If your smartphone supports a dual sim option, consider using it for different contacts each — business and personal ones. Do not use a business number for registering for public services or your purposes. This measure will help you to prevent unwanted spam messages and calls.
Secondly, applications. Usually, for personal use, we choose the most popular or the one our friends or relatives use. But if you are a businessman, you communicate with different people, and usually, it requires having various applications. Register your business number only in those apps where you message your clients.
If your work does not require communicating with external contacts, it's a reason to try self-hosted instant messaging software for communicating with teammates securely without third-party connections.
Secure messenger for business communication
MyChat is a corporate chat-server software with numerous tools and settings for creating a private communication environment. It allows working both over the internet and local networks.
In MyChat for Android and iOS, you do not have to specify your phone number to log in. You use your corporate email and password given by your administration.
Moreover, your contact list contains only teammates' contacts. No ads, no spam from third-party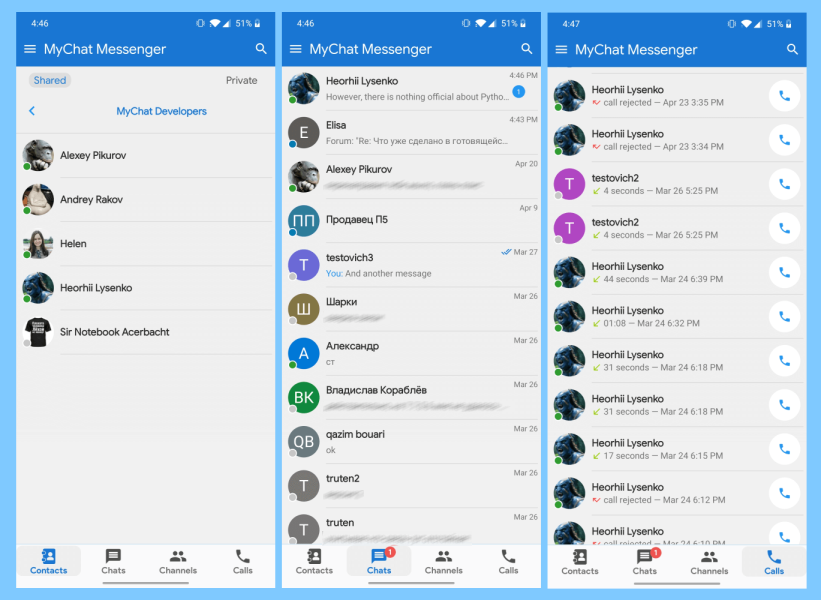 All data is stored on the server making it possible to access any information you need when working on a local network.
In MyChat for Android, you can make calls, send files, view assigned tasks from Kanban (), check the Bulletin board for important notifications, and send broadcast messages.